Wearing Many Hats Is An Everyday Expectation
As a funeral home director, multitasking is part of your daily routine. Funeral directors are responsible for arranging and customizing all aspects of the services in a way that will do justice to both the deceased as well as their grieving family members and friends. In addition to these services, funeral directors also take care of all necessary legal forms involved with the deceased. With so many responsibilities lying on your shoulders, worrying about the cleanliness and sanitation of your facility shouldn't be something that adds stress to your already hectic job.
You don't know what's coming through your doors, so don't take any chances
In the Emergency Department, you have to be ready for anything, at any time. Half of all hospital admissions come through the ED, and what comes with them are pathogens that pose the risk of spreading throughout your hospital. With many team members responsible for cleaning and disinfection, you need products and protocols that are fast and effective. You want a product that gives you the confidence that you're protecting the health of your patients, your department, and your entire facility.
Healthiness Begins with Cleanliness
Your patients depend on you for their bright smiles and to keep them safe during their entire visit. In the same way that your patients depend on you, you can depend on BenzaRid disinfectant. Our products are competitively priced, EPA registered, and made from the highest quality ingredients. It is tough enough to eliminate germs yet gentle enough to use on equipment. Use BenzaRid over your entire facility; from the waiting room to the operating room, and see why businesses across the board trust us to keep their clients safe.
How We Help
Virucide
Effective against many types of viruses including Human Coronavirus, HIV-1, Hepatitis B and C, Influenza.
Fungicide
Destroys multiple forms of fungus including Candida Albicans and Trichophyton Mentagrophytes.
Germs and Bacteria
Kills 99.9% of bacteria including Escherichia coli, Salmonella, and Staphylococcus.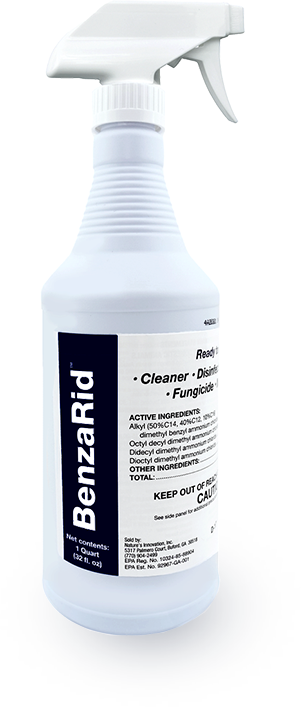 Bloodborne Pathogens
Sanitizes potentially-infectious human bodily fluids including blood, exceeding surgical room standards.
Mold Remediation
Proven to remove toxic molds including Aspergillus Niger/Black Mold.
Mildewstat
Inhibits the growth of mildew and works to prevent airborne spores.
What We Do

All-in-One
Eliminates the need for multiple cleaners, sanitizers, virucides, mold removers, mildew stats, and disinfectants.
High Caliber Clean
Hospital-grade disinfectant currently used in hospitals, emergency medical service vehicles, and private medical practices.
Used By The Best
Used by the EPA, USBP, FEMA, and other governmental agencies.
For Everyone
Loved by households across the world for ease-of-use and efficacy.
What They Say
Connie
Absolutely Recommend This Cleaner!
Absolutely recommend this cleaner!!! We have suffered from one parasite after another this summer. First fleas, then lice, now scabies and mites. I bought this as a last hope along with sulfur ointment and soap. After using this product, I can safely say my house is clean. I sprayed it everywhere. My bathroom instantly looked cleaner. The mildew stains disappeared instantly, and I haven't felt any mites or bites since spraying this all over. I even sprayed my furniture and carpets. It has worked wonders for me.
Rebecca
Very Effective Product
Awesome product!!! I use 2-4 oz. in the rinse cycle of the laundry machine (1-2 oz. for high efficiency) and it does a knock-down on some of the most common lung infections that keep getting all over my clothing when I am out in public places. My clothing came out CLEAN for the first time in a long time. I also use this product on a paper towel to clean other surfaces. I would like to see more products like this one that include efficacy against multiple strains of infections that are otherwise difficult to eradicate. The only thing that would make this product better is if it was effective against multiple strains of vibrio species.
Monique
We were itching like crazy so I purchased this and cleaned areas and ...
This did the trick!! We were itching like crazy so I purchased this and cleaned areas and surfaces and even sprayed the beds, and what great results we've witnessed from this product! Fantastic buy!!
We had a place in the ceiling leaking and it of course turned a nasty black. After getting everything fixed up I wanted something I knew would clean that black mold. This was amazing!! It not only cleaned it, it took the smell away and removed the stains from the ceiling, wall and floor where it had dripped, run and pooled. We also used it on old stains from old leaks and it cleaned those up also!
Incredible top of the line hospital grade sanitizer. You get what you pay for in this case you pay a lot for a top of the line product especially with COVID !!!