Pets Are Family Members Too – Keep Them Safe
Pet owners want to feel confident that their beloved companion is being taken care of by a team they can trust. To ensure that your facility stands out as a leader in caring for animals of all shapes and sizes, let your patients and their families know their safety is a top priority. A clean facility shows your clients that you are passionate about the safety of your patients, staff, and patrons. Use a cleaning solution that is built tough to kill harmful bacteria and viruses yet gentle enough to use around your furry friends safely.
Cleaning The Way To A Purrfect Stay
BenzaRid is an EPA-registered disinfectant. While it's strong enough to be used in large medical facilities, it is also safe around the house. Clinically proven to kill 99.9% of bacteria and Covid-19, BenzaRid is available in sizes to cater to any facility. Our team of professionals is here to help you. Our goal is to provide the highest quality products combined with a world-class customer service team to ensure that all your moving parts operate at their highest potential.
How We Help
Virucide
Effective against many types of viruses including Human Coronavirus, HIV-1, Hepatitis B and C, Influenza.
Fungicide
Destroys multiple forms of fungus including Candida Albicans and Trichophyton Mentagrophytes.
Germs and Bacteria
Kills 99.9% of bacteria including Escherichia coli, Salmonella, and Staphylococcus.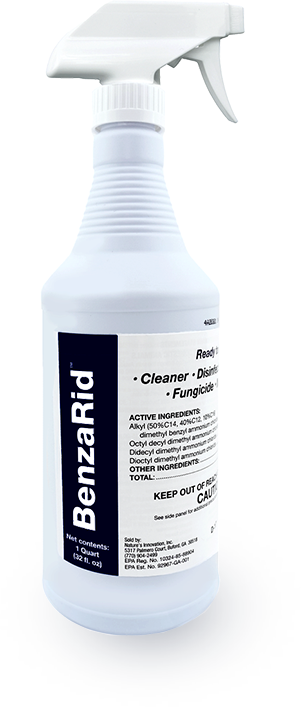 Bloodborne Pathogens
Disinfects potentially-infectious human bodily fluids including blood, exceeding surgical room standards.
Mold Remediation
Proven to remove toxic molds including Aspergillus Niger/Black Mold.
Mildewstat
Inhibits the growth of mildew and works to prevent airborne spores.
What we do

All-in-One
Eliminates the need for multiple cleaners, sanitizers, virucides, mold removers, mildewstats, and disinfectants.
High Caliber Clean
Hospital-grade disinfectant currently used in hospitals, emergency medical service vehicles, and private medical practices.
Used By The Best
Used by the EPA, USBP, FEMA, and other governmental agencies.
For Everyone
Loved by households across the world for ease-of-use and efficacy.
What They Say
Bialetti
Excellent product!
Works as advertised, Easy to work with, especially when combined with "magnetic" cloths. Used to decontaminate walls of mold spores. Also used to decontaminate non-porous belongings taken from the moldy home.
Jan
Keeps it clean sanitized...unscented...does what it says!
I like the fact that i have something that hospitals use that seems to work! N feel safe knowing it kills off all it says it does...n w/flu season approaching this will be a God send! I use this everywhere in my house! I feel happy knowing that it cleans n has the protection needed! N most of all...no scent! I am planing on buying more...i bought the gal.size...w/elderly persons around (3)...2 dogs n 2 indoor cats...this is such a help.So far...glad i bought.
Awesome product! Works wonders with grandma's old quilts too. Will order again.
Diana
Excellent All Around Sanitizer
Kills mold, kills bed bugs, excellent all around sanitizer! Excellent product.
I love the product. The customer service at Nature's Innovation are great!