Your Patient's Smiles Won't Be the Only Thing That Shine
With a fully booked schedule and a continuous stream of clients, the Dental industry has always been fast-paced. This hectic work environment leaves no room for cutting corners, especially when it comes to cleanliness. BenzaRid disinfectant provides a hospital-grade, EPA-Registered cleaning agent that kills bacteria, germs, mold, flu and Covid-19. BenzaRid disinfectant is sold in a variety of sizes to accommodate your needs regardless of your office space. From small office settings to major medical facilities, BenzaRid is a proven and trusted product to keep your patients and employees safe.
Healthiness Begins with Cleanliness
Your patients depend on you for their bright smiles and to keep them safe during their entire visit. In the same way that your patients depend on you, you can depend on BenzaRid disinfectant. Our products are competitively priced, EPA-registered, and made from the highest quality ingredients available. It is tough enough to eliminate germs yet gentle enough to use on delicate medical equipment. Use BenzaRid over your entire facility, from the waiting room to the operating room, and see why businesses across the board trust us to keep their clients safe.
How We Help
Virucide
Effective against many types of viruses including Human Coronavirus, HIV-1, Hepatitis B and C, Influenza.
Fungicide
Destroys multiple forms of fungus including Candida Albicans and Trichophyton Mentagrophytes.
Germs and Bacteria
Kills 99.9% of bacteria including Escherichia coli, Salmonella, and Staphylococcus.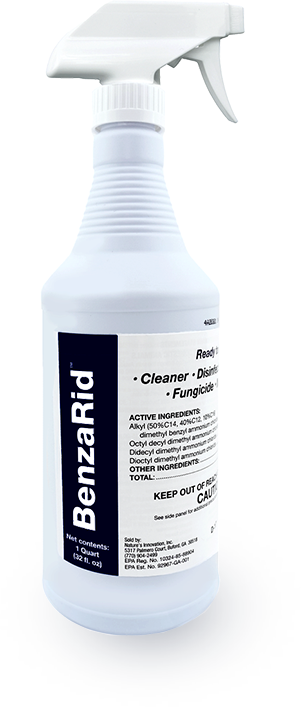 Bloodborne Pathogens
Sanitizes potentially-infectious human bodily fluids including blood, exceeding surgical room standards.
Mold Remediation
Proven to remove toxic molds including Aspergillus Niger/Black Mold.
Mildewstat
Inhibits the growth of mildew and works to prevent airborne spores.
What We Do

All-in-One
Eliminates the need for multiple cleaners, sanitizers, virucides, mold removers, mildewstats, and disinfectants.
High Caliber Clean
Hospital-grade disinfectant currently used in hospitals, emergency medical service vehicles, and private medical practices.
Used By The Best
Used by the EPA, USBP, FEMA, and other governmental agencies.
For Everyone
Loved by households across the world for ease-of-use and efficacy.
What They Say
I like this product because it has help me with problems.. No other product has..It covered the problem I was dealing with.. I am glad to have found this product.
Volcano lll
Why gamble with your healthy life you only have one?
Beat out their for nasty germs that can hurt your family. Also those bugs we can't see gets them too. Safer than cheap stuff
Jett
Definitely better than regular store cleaner
Have an older bathroom tub, it tends to scum up quickly due to the surface being old and scratched...this stuff cuts right thru and seems to help it not get quite so dirty quite so fast...oz for oz does a better job.
I used this on all my bedding and mattress stored in storage unit. It killed everything in one day! I have lupus and mites DO and Can live on people with low immunity. I will never not have this again. AAA++++
Great for mold, Bleach does not kill mold, this does in washer.