Hurricanes can cause flood damage, and we're here to help.
BenzaRid, the product we recommend to help disinfect your home after a bed bug infestation, is a professional mold remediation product used by many businesses to kill the fungus spores at the source and is available to the public for any size job! Hurricane Ian is just the most recent example of the inflicting damages a natural water disaster can have on our homes and businesses. We've seen it time and time again. Suppose your home or business has ever been impacted by a hurricane or flood damage. In that case, you are probably all too familiar with damage control and mold and mildew formation risks. Unfortunate events such as these are out of our control, and preventative measures can only go so far as to lessen the impact they may have. If you need help with mold remediation during this hurricane season or anytime, BenzaRid is here to help ease your mind and your wallet.
So, how exactly does it work?
Benzalkonium Chlorides (BACs) are a powerful group of chemicals that have various uses due to the dynamic microbial properties against viruses, bacteria, and fungi (like mold & mildew) that they carry. Professionals in mold remediation most often use this many-sided chemical due to its long-lasting effects. They just so happen to be BenzaRid's principal active ingredient in its proprietary formula. Unlike bleaches, which may provide a quick kill to the fungi (and evaporates just as quickly), BACs give a "deeper" kill by being able to deeply penetrate thicker layers and working overtime to not only kill the mold but also to stunt the risk of regrowth of the fungi. Benzalkonium Chlorides also work safely on many surfaces, not posing a threat to its molecular structure, contrasting with the popular bleaches and alkaline formulas that break down the fungi and the cellular network of whatever it may be on. Due to these factors, professionals turn to Benzalkonium Chloride formulas to guarantee complete eradication of mold wherever they treat it, without the harsh chemical smells and damage bleaches may cause. BenzaRid is not only for professionals, but its ability to be used in steamers and foggers made BenzaRid a popular choice across several mold and mildew remediation businesses in the USA. Our commitment to every customer makes us the right choice for businesses and your home. BenzaRid makes it easy to remove mold and mildew and prevent regrowth, simply spray it on and leave it to dry; the fungi will be dead within minutes. BenzaRid comes in many sizes to cater to your specific needs, and we're available every step of the way to guarantee the results you are looking for.
How We Help
Virucide
Effective against many types of viruses including Human Coronavirus, HIV-1, Hepatitis B and C, Influenza.
Fungicide
Destroys multiple forms of fungus including Candida Albicans and Trichophyton Mentagrophytes.
Germs and Bacteria
Kills 99.9% of bacteria including Escherichia coli, Salmonella, and Staphylococcus.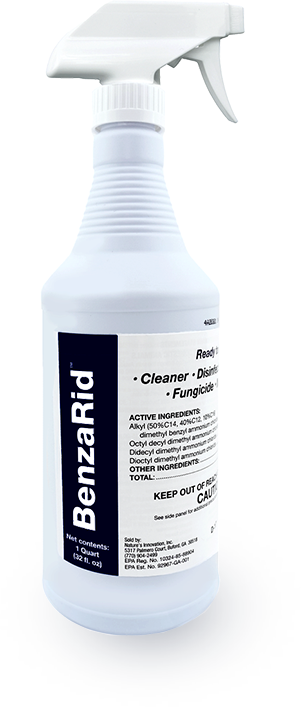 Bloodborne Pathogens
Disinfects potentially-infectious human bodily fluids including blood, exceeding surgical room standards.
Mold Remediation
Proven to remove toxic molds including Aspergillus Niger/Black Mold.
Mildewstat
Inhibits the growth of mildew and works to prevent airborne spores.
What We Do

All-in-One
Eliminates the need for multiple cleaners, sanitizers, virucides, mold removers, mildewstats, and disinfectants.
High Caliber Clean
Hospital-grade disinfectant currently used in hospitals, emergency medical service vehicles, and private medical practices.
Used By The Best
Used by the EPA, USBP, FEMA, and other governmental agencies.
For Everyone
Loved by households across the world for ease-of-use and efficacy.
What They say
I bought this product because it kills everything. It has No smell, which is important to me, because Bleach has a smell which seems to get in my lungs and I taste and smell it for hours after I use it. This is a great alternative to Bleach. I have used it to clean any and every hard surface in the house. It is great on Wood, Stainless steel, plastic, and all hard surfaces. It has the ability to kill mites, MRSA, Staff, and other nasty things, which is important to me as I am now caring for my Mother who had Scabies and got a MRSA infection from them. I Love this Cleaner!
We had a place in the ceiling leaking and it of course turned a nasty black. After getting everything fixed up I wanted something I knew would clean that black mold. This was amazing!! It not only cleaned it, it took the smell away and removed the stains from the ceiling, wall and floor where it had dripped, run and pooled. We also used it on old stains from old leaks and it cleaned those up also!
Henry
Works great in a fogger
Easy to use in my fogger, got all my guys using this. Really premium stuff!
This is what we used in the Cyto-Pathology lab. it pretty much 86's any nasty microbe, without adding any nasty odor. The radiator, in my apartment, exploded. I had my very own personal hurricane. This stuff is a miracle.
Works very very well. I am glad I finally got some. I thought only hospitals could purchase this, now I know I can get this too which is pretty cool, I will definitely be ordering again when I run out...